My Demo Reel
Satellite Radio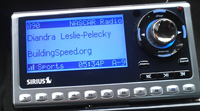 For the last nine years, I've been a regular guest on Dave Moody's SiriusXM Speedway show, showing how science impacts new on and off the track. From aerodynamics to drug testing, from statistics to science, we show people where science impacts their everyday lives.
Science Consultant (Ongoing)
On my own, and with the Science and Entertainment Exchange, I've served as science consultant for television shows and movies, as well as the occasional comic book.
---
Television and Web
Invisible (H2, 2013)
Guest expert for a segment dealing with the invisible forces that make motorsports so challening. Taped at the Auto Club Speedway of California, the segment was primarily improvised with host Matt Iseman. Produced by the Emmy-Award-winning Flight 33 Productions.
---
Building Speed Videos (Web, 2012)
The Motorsports Science Minute (or two) videos provide motorsports fans with quick information about science-related events that may affect whether their favorite driver wins the next race. I write, produce and edit the videos as well as host them.
---
Science of a Wreck (ESPN, 2009)
Expert on the pre-race show. Produced by Bonnie Larkin, the segment won the 2009 Russ Catlin Motorsports Journalism Award of Excellence. View
---
The Science of Speed (National Science Foundation, 2009)
This 12-part-series was produced by Santa Fe Productions for the National Science Foundation. I wrote the episodes and served as host. View
---
Step-Up (ESPN, 2008)
This segment for ESPN aired in September 2008 during the coverage of the X-Games. I explained the science behind the 'step-up' event, which is essentially the high jump – on a motorcycle.
---
Quest for the Cup: NASCAR's New Car (VOOM HD, 2008)
I co-wrote and served as the host for this episode, which introduced viewers to the 'Car of Tomorrow'. The series, which was produced by the NASCAR Media Group, won a Sports Emmy Award.
---
Bristol Physics 101 (ESPN, 2007)
I served as an on-air expert for this segment, which aired in August prior to the Bristol race on ESPN.
Video Blogging (Web, 2007-present)
I have written, produced and edited video blogs on a wide varity of topics ranging from the aerodynamics of airborne cars to turkey brining.